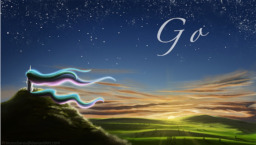 There is a secret being kept from Equestria. Not a single soul is aware of it. There was gossip, yes. Those ponies had been deemed mad. But those who accused the gossipers as such didn't notice the extra weight that was carried by the air. They failed to notice the subtle shifts in the breeze, or the slight change of coloration to their surroundings. Not a single soul saw it coming.
Well... there was one.
And if she divulges the information accordingly, she might be able to save them. Hell, if she only said the word, everypony could be saved.
That is... all but one
cover image is entitled Thoughts by PrincessSaros
Chapters (4)