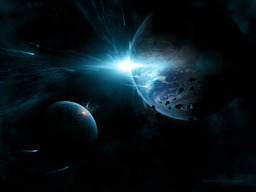 The year is 2806, and Humanity has long left the loving embrace of their planet. After defeating the fanatical Enlightened, a warmongering alien race who had come to destroy them, many thought that an era of peace and prosperity was to come.
But that was not the case. Earth was lost in the war, and Humanity was divided.
A galactic civil war is raging in the galaxy, and three notorious pirates seeking to leave that life depart on a voyage to find the long-lost homeworld of Humanity: Earth. But complications arise as their destination is far more colourful, and far more occupied than originally expected…
Follow the tale of the Cerberus Pirates, and their struggles on a foreign world with nothing but the technology on their persons and the wreck of their ship to work with. Striving to get back to Mother Earth, and doing whatever it takes to achieve that goal.
--------
[Gore tag is more of a warning that things get a bit intense, but not to a sickening degree. Merely a word of caution, as it were.]
[The Team: Dumbgamer99 (Slayer), SovietBacon (Yuri), and Shadow Horizons (Drake)]
[Current Beta-Readers (thanks a tonne, you guys!): Rokkurin, PhiliChez]
Chapters (12)