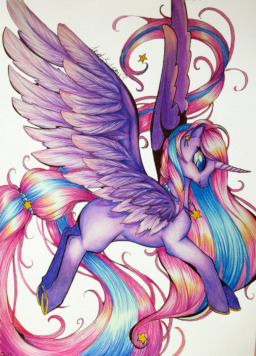 Source
This story is a sequel to A [Fe]Male Perspective of Equestria
---
Six months. A lot can change in such a short time. Like going from a human guy on Earth to a female alicorn in Equestria. I may be mostly used to my new body, but I still haven't found my place here. Being an alicorn has only made things worse... everyone expects great things from me, and too many ponies look up to me for no other reason than because of what I am. Hopefully I can figure this out sooner rather than later...
---
Looking to explore the concept of how a blank-flank alicorn would fit into Equestria... without the stupid silly charisma, insane magical ability, or supersonic flight capacity. I know alicorn OCs have some stigma to them that instantly labels them as a Mary/Gary Stu, but I plan to avoid all of that silliness.
A sequel to A [Fe]Male Perspective of Equestria (can't link directly due to NSFW content), now with much less insanity, but with the same amount of comedy. Reading this is not required, although it is recommended. If sex is not your thing, all three chapters marked with (***) are skippable without losing any story content. The writing is crude/humorous/unedited, please be aware of that.
NOTE - Tags. While the protagonist was human in the previous story, I am leaving the [Human] tag off. This is not a Human-In-Equestria story, please do not add it to any Human-related groups.
Explicit sexual scenes are being left out of this story submission. When I get to them, there will be a note saying to go to its prior story, as I will be posting the scenes on there.
Chapters (5)