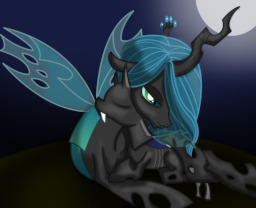 Source
All things have a beginning.
Even for one such as Chrysalis, Queen of the Changelings.
She lost her bid for Equestria. The changeling was found lying in a crater miles from where she had been flung. It was a miracle she had survived. Her army was shattered. So far as the Equestrians knew, Chrysalis was the only survivor.
But her hive survives and has gone to hiding as another queen seeks to find it.
If Equestria thought Chrysalis was a monster, wait until they meet Queen Taalia...
In the meantime, Atalanta has given Queen Chrysalis a renewed sense of purpose. Hatched in captivity, she is the whole world to her doting mother.
She writes the story of her life for her daughter, who could very well be the last of the changelings once Chrysalis is gone...and who this Queen Taalia is.
Cover Art by pinkanaon. Check out the art!
MLP:FiM was created by Lauren Faust.
MLP:FiM is owned by Hasbro.
All Rights Reserved.
Chapters (29)