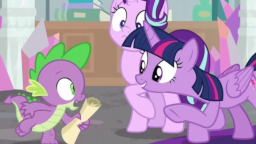 After years of back and forward between Twilight Sparkle and her brother Shining Armor, the final round of the Sibling Supreme Competiton has ended, and the true winner has been decided.
And in the end, that honor went to neither of them. Rather, it went to none other than Spike, the young dragon finally gaining recognition as the little brother Shining and Twilight have always had.
A few hours later, Twilight and Spike take the time to ponder how the day's events have changed their perception of the past, and how this new revelation will affect their future.
...Also, Starlight is there.
---
Written by TheAncientPolitzanian
Special Thanks to "Spooky"
Cover taken from S9E04 "Twilight's Seven" (It gets a thumbs up from me!)
"Familial Words" is wholeheartedly dedicated to the art and comics penned by dSana, A.K.A. Stainless Key (Thanks for the memories!)
Chapters (1)