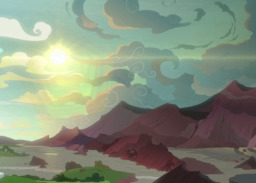 Source
As the sun sets on another day in the magical land of Equestria, an era sets along with it. One of the last remaining participants of a bygone age rests idly, bracing themselves to face whatever lies beyond this mortal coil.
Twilight Sparkle is no stranger to death. As an alicorn, one of the immortal rulers and protectors of Equestria, she's seen many dear friends come and go over the countless years. But through it all, there was one confidant she could always find solace in: Spike, her faithful dragon assistant and adoptive little brother.
Alas, not even dragons, long-lived as they are, can endure forever. Now, with mere hours remaining before Spike leaves this world for the next, the time has come for Twilight to bid farewell to the first and last of her very best friends.
---
Written by TheAncientPolitzanian
Inspired and preread by The Red Parade
Edited by Lord Regulus (A.K.A. Rego)
Cover Art: FiM S9E09 "Sweet and Smoky"
"Excuse me while I go and feel wistful in a corner." –Astrarian
Chapters (1)