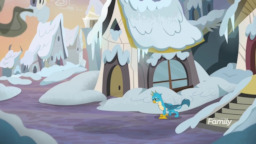 Source
Gallus's childhood wasn't a very happy one, to say the least. With no family to speak of and nogriffon willing to take him in, he was constantly locked in a struggle against his own hunger. Fortunately for the young griffon, doing the odd job or two was enough for him to afford the food sold at the marketplace.
Unfortunately, there were days where that wasn't an option. This is one such day.
---
Written by TheAncientPolitzanian
Special Thanks to "Spooky"
Cover taken from S8E15 "The Hearth's Warming Club"
Chapters (3)