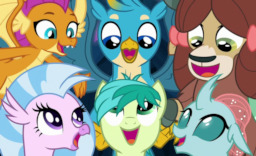 Source
Gallbar: Sandbar anxiously reveals his true feelings for Gallus.
Smolcellus: Smolder and Ocellus realize they go together like bacon and eggs.
Yonastream: This ship makes no sense, and they know it.
This was written for someone who shall remain anonymous, but needless to say, they really enjoy shipping. I hope y'all do too!
Chapters (4)