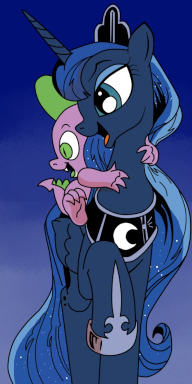 Source
(Collab with yodajax10. Takes place "Father Knows Beast".)
Sludge has left and taken with him the false pretenses that he's Spike's father. But the effects of his visit are just now starting to settle in.
Worried about the lack of closure Spike faces, Twilight turns to a pony well experienced in helping others deal with past traumas, Princess Luna.
The night princess takes it upon herself to help Spike and Twilight reconcile and cope, so that they'll draw closer together. But Luna also intends to use this opportunity to interact with Spike one on one.
Can Luna give Spike the closure and comfort he needs? Or has Twilight drafted her to do the impossible?
Chapters (1)