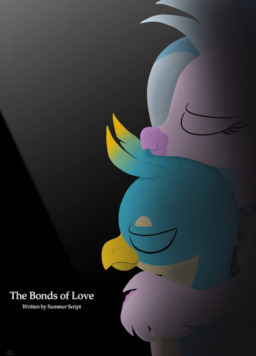 Source
This story is a sequel to A Day for Family
---
Friends and Family Day has come and gone, leaving behind both many happy families with a plethora of newly-forged, long-lasting memories, and one exhausted griffon with a multitude of hauntingly bad memories that he would rather forget.
Of course, he also made quite a lot of good memories as well. Funnily enough, almost all of them focus on a certain pink hippogriff. These are memories he wouldn't trade for the world.
Unfortunately, it's never really that easy even if Gallus wishes it would be. So while he may be in a far better place than he was before, he's still far from being as well as he could or wants to be.
Luckily, he has a great number of others, willing to stand by his side to help him heal. His teachers... His friends... Silverstream... All of the ones that he loves are standing with him as he makes his journey toward serenity. And while that long, arduous journey is still his to walk...
He doesn't have to walk it alone.
WARNING: Though the Suicide Tag is included, the act itself does NOT occur! In fact, it is added specifically because of Chapter Nine - and ONLY Chapter Nine - where the topic is brought up and discussed briefly.
All other chapters are devoid of any major discussions of the subject matter.
EDIT: Apparently, as of 1/15/2021, this story got featured! Thank you, everyone, so, so much for this! It really means a lot!
EDIT(8/18/2021): Much thanks to Johnerose126 for being awesome and gracing us with a brand new cover art!
Here's the link to the Cover version: https://www.deviantart.com/johnerose126/art/The-Bonds-of-Love-COVER-889056152
The full image version: https://www.deviantart.com/johnerose126/art/The-Bonds-of-Love-889054653
And Johnerose126's DeviantArt account: https://www.deviantart.com/johnerose126
Now go give them some love!
For anyone interested, the original cover art was found via Google Images; here's the link to it: https://www.deviantart.com/ejlightning007arts/art/Gallus-and-Silverstream-773813568
Chapters (16)