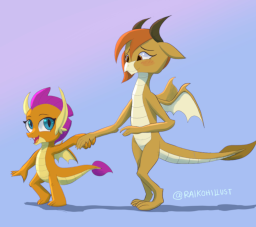 Source
Dragons are a lot of things. Strong. Brave. Confident.
Smolder has all of these qualities in spades. For example, she needed strength, bravery, and confidence to ask the object of her crush to visit her in the Dragon Lands.
She just didn't expect Ocellus to be such a good dragon too, or why that would be such a problem.
---
Edited by my dear friends FamousLastWords, Not Enough Coffee, Ice Star, Semillon, Muggonny, and MissytheAngle
Cover art by Raikohillust!
Chapters (1)