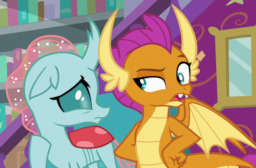 This story is a sequel to Midnight Rendezvous
---
A sequel to "Midnight Rendezvous" by RainbowDoubleDash, itself a sequel to "We Finally Did It" by Rated Ponystar.
After Sandbar's announcement about him and Yona having done "it" provoked a lot of confusion and embarrassment, now it's Smolder and Ocellus' turn. Their own announcement about "it" creates a different kind of confusion, but still a lot of embarrassment.
Contains discussion about, but no depictions of, sexual topics.
Chapters (2)