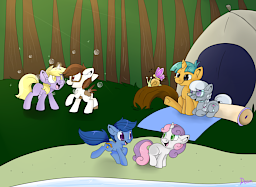 Concerned about the confidence of some of her students, Cheerilee enlists Rainbow Dash to take six children: Sweetie Belle, Silver Spoon, Snails, Dinky Doo, Pipsqueak and Archer on a week-long camping trip to Whitetail Woods. Rainbow enlists the aid of Big Macintosh as her co-chaperone as she tries to teach the young fillies and colts about camping, teamwork, confidence and how to get along and fend for themselves.
They are so doomed.
Future chapters will feature some action as well as appearances by other characters. Some shipping may be involved.
Please read and review!
Chapters (21)