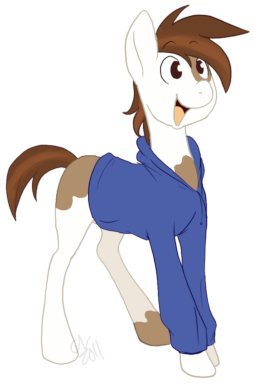 Source
UPDATE: COMPLETE! You may have heard of Pipsqueak. He's a pinto colt, originally from Trottingham, saved Nightmare Night from being abolished seven odd years ago. Know the one I'm talking about? Yes? Good. Since then he's grown into a charming, cultured hedonist who wants to bed near every mare in Ponyville and a good few of the stallions. He has a slender build and some ponies say he has mares' hips, though he feels that those ponies should shut their bloody mouths. His best mate is the gregarious and multi-talented Featherweight, and his other best mate is the stoic trencherpony and excellent cook Chowder.
This is the story of a Friday, and the wee hours of a Saturday. It's a teacher training day, and Pipsqueak and his friends have no school.
In twenty-four hours, a sinister plot to take down a local business is launched, Snips and Snails dabble in the dark magic of Peyuase, a great deal of debauchery occurs, a cocktail of unrivaled destructive power is created and a small fleet of ships are launched! All of this and more, in Pipsqueak's Day Off!
Massive thanks to LittleSallyDigby for help, editing and advice.
Chapters (7)