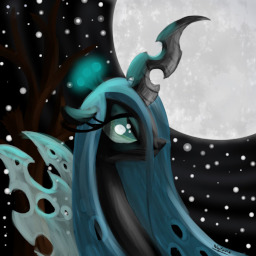 Source
I, Queen Chrysalis of the Changelings, was a paragon of my kind. I was the greatest military ruler my people have ever known. I was mere months from conquering the most prosperous nation in the world.
Then a strange dragon rose from the stone, and everything changed.
I do not think of conquest any more. Now, I think of persimmons.
[AU fic where Discord decided to wreak bloody vengeance when he was first released. Heavily based on (BUT NOT CANON TO) the wonderful alarajroger's Elements of Opposition continuity. Go check that out, because it's fantastic and better than this story.]
Chapters (1)