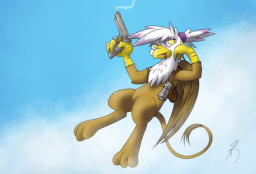 Source
Equestria has come unstuck in time and space.
The world that Gilda Redbeak knows has detached itself from reality. The true, Platonic nature of existence has become as thin and permeable as muslin. Strange universes are superimposing themselves onto Equestria, bizarre, hollow fictions with only the vaguest resemblance to the truth. Ponies replaced with crude facsimiles, a swarm of alicorns, hordes of green-headed men, pointless invasions by inexplicably evil leaders, sneering egotists in strange costumes, perception-warpers with vast harems, contrivances on an unimaginable scale, and... humans.
If Gilda can't stop this, the entire world will be replaced by something far more sinister, and also dumber. Or worse, the strain on timespace will destroy existence entirely. Either way, she won't be able to make the loan payment on her new scone cart.
With the help of an attention-seeking showmare, a frustrated draconequus, and a deeply-confused sailor from Worcester, Gilda has to banish these false realities, one by one, before they destroy Equestria for good.
Chapters (1)