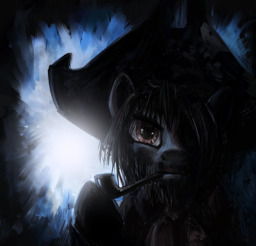 Source
Across the Equestrian lands and seas alike, there echoes of a legend; a pirate so dreaded that even the bulkiest of sailors would scream in fright. All you would need to recognize is his galleon's flag to know true fear. While most would keep away from such an outlaw, a few women know the kind-hearted young man he truly is. One lass will go so far as to join the kid.
However, all is not simply fun and games. Nightmare Night is coming, and the young pirate have to brave the spirit of Nightmare himself if Equestria is to survive another year. However, a new rat-faced minion is going to make this quest a little more challenging.
WARNING: contains anime references, very mild pee fetishing, shipping, and humanized ponies that I'm not exactly sure would qualify as anthropomorphic.
Chapters (9)