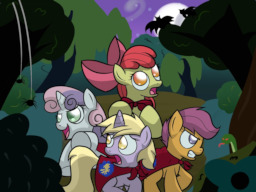 Source
It has been a few months since Dinky Doo Hooves joined the Cutie Mark Crusaders, with Sweetie Belle, Scootaloo, and Applebloom still not having their cutie marks. They are still Diamond Tiara and Silver Spoon's top ponies to tease about not having their cutie marks, yet. But that soon going to change when the four little fillies have a special case of love-bug from one of Cupid's arrows.
As things are going to be chaotic when the fillies realize that they have crushes on the three colts by the name of Pipsqueak, Rumble, and the total pony gamer, Button Mash. How will this go down with only four fillies and three young colts with very very different personalities? But that only means one little filly of the group is going to be heartbroken. But who will be the heartbroken filly of the Cmc?
Will it be Sweetie Belle, Scootaloo, Applebloom, or the new Cmc member, Dinky? Will the Cmc break apart due to their cases of love? Or will their Friendships just break apart into tiny pieces, over three little colts?
How will this turn out with the Cmc fillies doing whatever it takes to win over the three colts of their dreams?
Chapters (2)