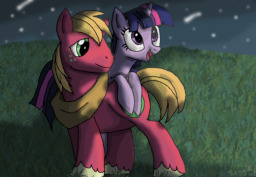 Source
It's been two months since Twilight and Big Macintosh started dating, and what a wonderful two months it's been. As their relationship blooms, Twilight finds out through Applejack that not all of the Apple family may be keen on a relationship that includes one of their own kin, and a unicorn. Worried about their future together, Twilight asks Big Macintosh for the biggest favor she can think of...to visit his entire family, and see if they can't break old traditions.
This is the sequel to Sparkling Cider, my first fan-fiction. It isn't necessary to have read Sparkling Cider to understand Old Traditions, but it certainly wouldn't hurt!
Credit for the cover image goes to ode2sokka on deviantart. It's an amazing image!
Thanks to all my followers who have been waiting for the sequel, you guys rock!
Chapters (10)