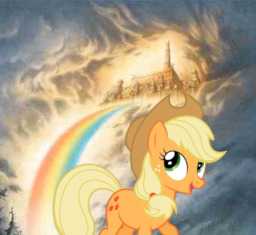 One late afternoon Applejack is caught in a freak storm that seemingly appears out of nowhere, getting home wont be easy. As a lot of sticks and branches fly everywhere she get's dangerous close to getting hurt when suddenly someone saves her!
A mysterious stallion managed to shield her from the danger, but get's himself knocked out. Where did he come from? Who is he? He has no idea, he has forgotten. So until his memories comes back he will stay at Sweet Apple Acres and get better.
Though one cannot sit still at the farm so he soon volunteers to help out and proofs himself useful much to amazement and maybe interest to a certain blonde mare?
But who is he really? Can Applejack find out and can she accept the truth when she does?
NOTE: THIS IS NOT A MARVEL CROSSOVER! IT IS INSPIRED BY NORSE MYTHOLOGY!!
(This is my first fiction on this platform, so any feedback would be much appreciated since English is not my first language ^^)
Chapters (10)