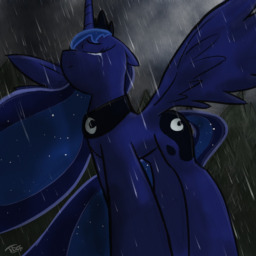 Source
Many years ago, when Equestria was still young, was a young princess, who struggled living in the shadow of her older sister.
History will tell us about Nightmare Moon rebelling against her sister, and threw Equestria into what she wanted to be eternal night. History will note the captain of the Luna guard standing by his mistress's side, until she was defeated and exiled to the moon. Then he fled, forever in exile, and dishonor.
Now, with the return of princess Luna, and the defeat of the shadowy entity known as Nightmare Moon, we learn that history, was wrong.
At least in one BIG detail..
Inspired by: NOTHING LEFT TO LOSE | Tangled The Series
Editor/Old Equish language expert: Mornings Dew
Coverart made by/belongs to: TheDracoJayProduct
Chapters (3)