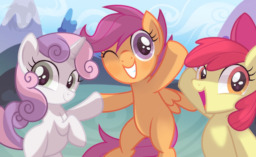 While helping out at an antique store, the CMC comes across an old relic, it looks like a very old snow globe, but as it turns out, it is a container, holding a very old being.
By accident the three fillies releases the spirit, and finds to their astonishment an alicorn colt, who is tied to the the old relic, and now the three fillies. The colt informs them that he doesn't remember who he is, or what his name is, but from this moment on, he is tied to them, and they get to make several wishes each.
This won't get out of hoof, right?
Chapters (2)