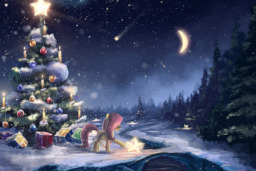 Source
This story is a sequel to The Legend Of Nicholas
---
20 years has passed since Nicholas was first found and adopted by a pair of ponies.
He is now a young man, living in his workshop deep within the Everfree forest. His story has grown, and each year foals expects to get a gift from the jolly human.
Twilight has only just learned about him, when Applejack takes her and their friends to him.
It is time for the legend to grow, Nicholas has had strange dreams as of late. He feels something is calling to him, and he cannot get his mind of it.
He wants to travel.
---
Inspired by:
The life and adventures of Santa Claus.
Christmas Chronicles
Klaus
Chapters (5)