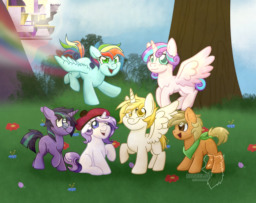 ((!!THIS STORY IS BEING REBOOTED!!))
Celestia is pregnant, every pony is excited to see the newest member of the royal family!
Follow little Spero from the moment he is born throughout his life as he grows and learns about the world and what it means to be a prince of Equestria.
However those close to Celestia still have no idea who the father is and Celestia isn't telling. For little Spero it is a secret that he will continue to chase.
With villains, secrets and nobles all around the young prince, he most prevail! But with a little helps from his friends, anything is possible!
Long live the prince!
Note: It should be said the first chapters will be brief, as we will cover points in his baby years first. It will become bigger and bigger in time.
Timeline: His birth will be after the defeat of king Sombra and the return of the Crystal Empire, so like in the middle of season 3.
Chapters (14)