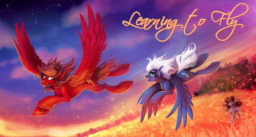 This story is a sequel to The Discovery
---
After changing into a pony, David has to come to terms with the fact that he can't function as used to. He thought his greatest challenges were past him, however, the difficulties of his new body are quickly becoming a massive strain on him and Midnight.
The guilt of making the choice for him weighs heavily on the dark mare, and eventually, the two of them must learn to confront the issue or lose the only thing they hold dear anymore. Each other.
Takes place between chapter 19 and the epilogue of The Discovery. I know that this is going to be confusing timeline-wise, but for the sake of making it easier, this takes place about a month or so before the epilogue of The Discovery. Again, this is a first attempt at something new, and I hope that you guys can appreciate this story for what it is, and not what The Discovery was. There are some different themes here, and a significant amount of fluff just because I felt like their relationship called for it. I hope that you enjoy what I've written.
*As with The Discovery, this story is pre-written and will be uploaded weekly.
As always, edited by my best friend AJ.
Chapters (8)