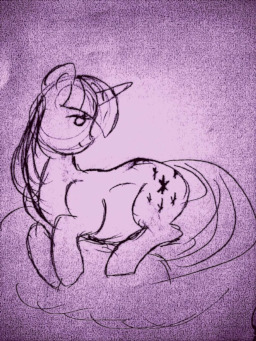 Source
Twilight Sparkle is pregnant and Big Macintosh is the father. Aid comes from the most surprising places as their situation becomes public. Secrets and long-buried tensions are exposed as the pair deal with a changing dynamic and learn what is most important in their lives.
-=-=-=-=-=-=-=-=-
SFC Ponycron: This story was started and originally written by Nagaina, and was adopted with their blessing. As of Sept. 11 / 2015, I'm doing minor edits and corrections to the previous chapters while mulling over Chapter 13.
Special thanks goes to:
Nagaina for letting me adopt this story and being of my pre-readers.
~HP~HF for the cover picture http://hp-hf.deviantart.com/gallery/#/d5113nv
MisterClacky and Karn3, who volunteered to be the previous author's pre-readers. If you wish to continue to be pre-readers for this story, my warmest thanks.
For previous followers of this story, my thanks to you for wishing that this story continue. I hope not to disappoint.
Chapters (12)