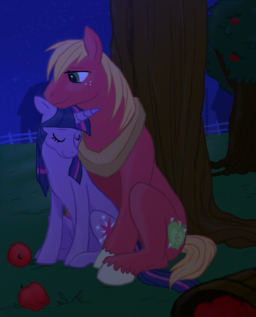 Source
Twilight rushes home one evening due to a horribly embarrassing event that has just transpired in her life. When Spike finally gets her to talk about it, she tells him of her newly found crush, and how she may have messed up any chance she had at a relationship. With the advice from her number one assistant and friend Applejack, can Twilight fix what happened and get a second chance with her crush?
First fanfic I've written, and a one shot at that. A sequel is in the works if this goes over well!
Credit for the image goes to cartoonlion on deviantart.
http://cartoonlion.deviantart.com/art/Night-at-Apple-Acres-208569909?offset=10
Chapters (1)