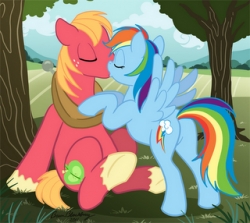 Rainbow Dash finally did it! A sonic rainboom on command! Except she also managed to break every window in Applejack's farmhouse in the process. Now she has to pay for each one, and with her wages from managing the weather not nearly enough to cover the damage, she has to work on Applejack's farm for two whole weeks!
Talk about cruel and unusual punishment. Still, maybe it wouldn't be all bad. At least she would get to hang out with her friend AJ right? Wrong.
5-star featured on Equestria Daily.
Sequel: http://www.fimfiction.net/story/4620/Breaking-Barriers
Chapters (12)