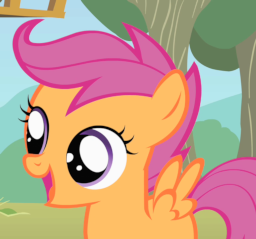 Scootaloo's birthday is coming up, and Rainbow Dash is unsure of what to get her number one fan. Upon asking her, it seemed her birthday wish would be a little harder to obtain than Dash thought. Enlisting the help of Twilight, the two mares set out to ensure that little Scootaloo has the best birthday ever.
That's right, a fic about best filly where nothing bad, tragic, or otherwise horrible happens to her, or anypony else. This is my attempt at an episode like fic.
Special thanks to RazedRainbow for getting this thing ready for public consumption.
Chapters (1)