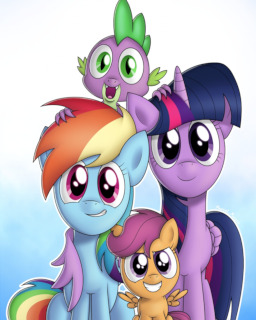 Source
Spike had watched Twilight date Rainbow Dash before eventually welcoming the pegasus into their home. Some time after that, the two mares adopted Scootaloo to join their family.
Once just friends, Spike and Scootaloo are now siblings, and they must adjust to the new changes in their lives, and most importantly, being brother and sister.
---
A collection of stand-alone shorts of Scootaloo and Spike as siblings.
---
A collab with Twilight-the-Pony as a birthday gift for TadStone.
Rated T because we are immature idiots.
Cover art by Manual-Monaro
Chapters (4)