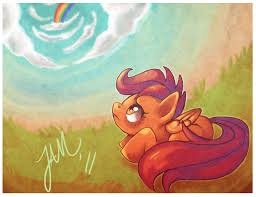 Source
What will Scootaloo do when she learns that she can never fly? Will she be alone in the darkness with her pain, sorrow, and misery? Or will she accept her destiny and fate instead?
Will she let her doubt and fear destroy her or will she be brave instead?
Note: Inspired by the stories A Flight of Fantasy, Flight, Dream of the Sky, First Aid, First Flight, and finally (to a lesser extent),A Day With Dash
So (please) go check them out if you want to.
Chapters (1)