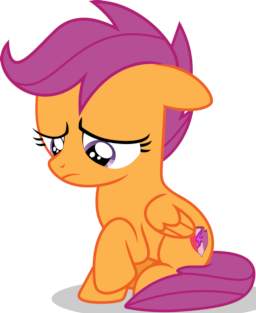 Source
(Written as an early birthday present for Madeline Peters. Takes place prior to any events in Season 8.)
Scootaloo's birthday is usually a happy occasion for the filly, especially when she has an amazing birthday party being thrown for her and all her friends are sure to be there.
But even though her big sister and her aunts will be present, Scootaloo finds herself down in the dumps about the fact that her parents seem poised to miss another birthday of hers.
It's up to Aunt Holiday, Auntie Lofty, and Rainbow Dash, to cheer the filly up and give her the most awesome birthday she's ever had! That's no easy task, even considering who they're dealing with.
Chapters (1)