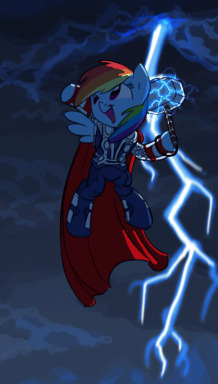 Source
Co-written with my totally awesome sister, a-Phoenix-in-Avalon and theseventhdoctor, with some additional (yet vital) help from TheInvincibleIronBrony
Set in the same universe as my other stories Iron Mare and Flutterhulk but you don't have to have read those to read this.
The powerful but arrogant warrior Rainbow Dash is cast out of the fantastic realm of Asgard and sent to live amongst mortal ponies in Equestria, where she soon becomes one of their finest defenders.
Please note that the "Other" tag is to cover my bases, since this story has a lot of side characters (i.e. The Warriors Three and such) and I ran out of tags. And yes, even though this is a superhero story, most of the time is spent without kicking butt. This character driven more then action driven. I might add the tag as I see fit.
Rated Teen for Action Violence, Brief Language, and mentions of adult themes.
Cover art by Siansaar
Chapters (20)