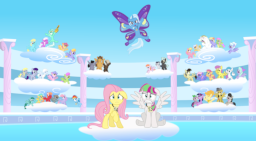 The Best Young Fliers competition is coming up, a contest for the best of the best pegasi around to strut their stuff. Hundreds of ponies, even-non pegasi, come just to watch the awe inspiring feats of aerial acrobatics in the Cloudsdale arena.
Only the top pegasi with unparalleled skill dare to throw their horseshoe into the ring, so one would never expect average confidence, average flier, and somewhat absentminded junior weather cadet Blossomforth from Manehattan to be in the running. But after an unexpected meeting with an old schoolmate, and a wrong turn while engrossed with catching up, the flower loving pegasus now finds herself as number 13 in what is perhaps the biggest airshow next to a Wonderbolts derby.
Can she and her partner muddle through this without either of them going to pieces? Or will stage fright and humiliation claim another victim for a front page scandal in the Cloudsdale Quarterly?
Story set in the Manehattanverse
Cover art by punzil504
Chapters (6)