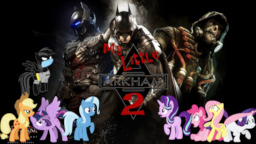 This story is a sequel to My Little Arkham
---
Anarchy takes Gotham City when the supposedly dead Scarecrow returns with a new concoction of fear. Abandoned by the general populace, the metropolis now rests in the hands of the criminals, who now run rampant after nine months of dormancy.
Three years have past in peaceful Equestria, and all seems well. When news of this terrible occurrence reaches Twilight Sparkle and her friends, they hold true to an old friend.
Will Scarecrow's oppression prevail over Gotham's otherworldly allies?
Cover Art is by me.
Author's Note (IMPORTANT): This will be a sequel to ADHD365's My Little Arkham and it will be a crossover of both Batman and My Little Pony: FIM, it will take place during the events of Batman: Arkham Knight. The timeline will be set between MLP seasons 6 and 7, meaning that every episode in season 7 has not happened yet at this point. It will be set a month after the events of "To Where and Back again" the season 6 finale of MLP. Just like the prequel; this story will focus more with the ponies' POV rather than Batman's. The reason I'm writing a sequel to someone else's story is because I liked that story very much; but I was a little disappointed when I learned that the Author (ADHD365) of My Little Arkham recently announced that he will not be doing any sequels or side stories of this great crossover. I loved this story to the point that I was motivated enough to do it myself. You can review, fav this you if are enjoying this story, you are also free to criticize this story if you'd like for any flaws I have made with story. Enjoy and have a nice day, ladies and gentlemen.
Chapters (6)