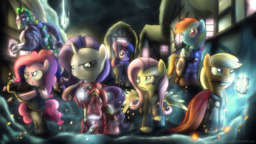 Source
Part of the Harmony's Warriors Universe
When a megalomaniac comes from the stars with the goal of enslaving all of Equestria, it's up to a soldier from the past, a redemption seeking businessmare, a demigod with an ego, an eccentric sharpshooter, and an introverted civilian with a dark secret to put a stop to it.
Of course, forming a team is always harder then it looks, and the six must first learn to work together, and set aside their differences, before they can tackle the greater foe.
---
For those of you wondering, yes, this serves as a sequel and mega-crossover of my previous stories, Iron Mare, Flutterhulk, Soar and Captain Equestria. Luckily, while this story will obviously include references to the previous stories, I'm going to also make sure that if you haven't had a chance or the time to read those stories, you can still understand what's going on here.
After all, what's the good of making a story only a select few can get any enjoyment out of?
The "Other" and "OC" character tags are to cover my bases, since I can't include every character in the tags.
Also, I'd like to note that the cover art was the best piece of fan art I could find with the Mane Six as The Avengers. The actual casting is different. Just a note.
Chapters (1)