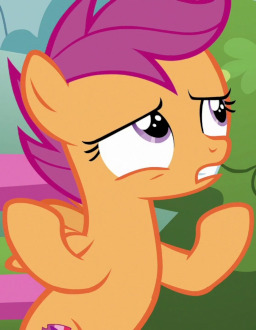 Source
(Story based on a concept teased by Lauren Faust, written as an early birthday present for Madeline Peters and Ashliegh Ball. Proofread by Smity1038 on Deviant Art and proofread and edited by deadpansnarker on FiMFiction.)
Scootaloo is called home one day after school lets out because her parents have something important they need to tell her, they're going out to dinner to celebrate their anniversary.
Of course, that means Scootaloo will need a foalsitter for the evening, and her parents already have the perfect pony in mind for the job. But Scootaloo doesn't think she needs a foalsitter anymore and can take care of herself. When her parents insist otherwise, Scootaloo decides there's only one thing to do, run away from home before the foalsitter shows up!
Unfortunately, Scootaloo will quickly discover that it's not an easy task to hide from her parents OR her big sister, not in a town where all of Scootaloo's best hiding places are well known. Will Scootaloo figure out a way to outsmart the grown-ups?
Chapters (1)