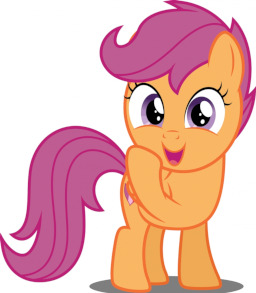 Source
Ever since she learned about Rainbow Dash's parents (and helped them reconnect with their daughter), Scootaloo has been spending a lot of time hanging out with Bow Hothoof and Windy Whistles, the two of them having become something of a second family to her.
However, Scootaloo already has a family, including a mother who is quite insistent Scootaloo be home by sun down. And when the filly unintentionally breaks this rule, she receives a visit from none other than her mother, Dizzy Twister.
But little does Scootaloo know, that Dizzy Twister and Windy Whistles used to know each other. And the question lingering on the filly's mind is: How is that possible?
Chapters (1)