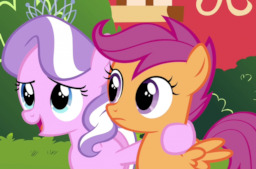 Source
(Takes place after the events of "Crusaders of The Lost Mark" but before the events of "The Mane Attraction". Proofread by Smitty91.)
Despite having turned over a new leaf at school, Diamond Tiara's life isn't all sunshine and rainbows now. She still has to contend with her mother, Spoiled Rich, and her behavior. Something that Diamond Tiara dreads every day.
When her father, Filthy Rich, is called out of town for a weekend, to attend an important business meeting, Diamond Tiara pleads with her new friends to invite her over for a sleepover. Surprisingly, the one who accepts is Scootaloo, who Diamond Tiara feels she has almost nothing in common with.
But she and Scootaloo will soon learn that they have more in common than they may have originally thought.
(Featured on 2/27/2016.)
Chapters (2)