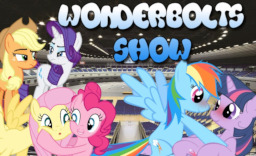 (Features Twidash)
There is a new Wonderbolt's show being hosted in Fillydelphia on the ground, allowing all types of ponies to attend. 6 of those ponies being the whacky, chaotic, trouble making Mane 6, who are known to cause madness wherever they find themselves, the Gala being a prime example.
Twilight must propose to Rainbow Dash, amongst doing other things to her..
Rarity and Applejack go on an adventure for a missing ring.
Fluttershy and Pinkie Pie go on a mission and make some cash doing it
As each couple of ponies split off in pursuit of their own desires, each of them end up having a very memorable night at the Wonderbolts show, all for different reasons though.
Chapters (3)