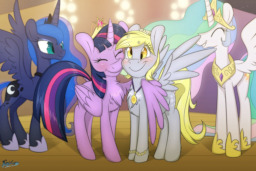 Source
Contains Movie Spoilers
---
Derpy arrived home after yet another long, grueling day at the post office, wanting nothing more than to unwind with a nice cup of tea and some muffins.
She never would have expected Twilight Sparkle to interrupt her rest, nor did she expect the events to follow when the Princess of Friendship wanted to talk about a deed that had gone unnoticed.
---
Cover art by FluffyXai and used with permission.
---
Top featured on 12/8/17
Chapters (3)