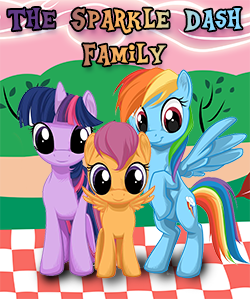 Do you sometimes find yourself lying awake at night wishing, praying even, that there was more TwiDash Scootadopt fics? If so, then I am pleased to announce the Sparkle Dash Family series!
These are my writings for thirty minute pony stories that I've written with a TwiDash Scootadopt theme. For the most part, they will all take part in the same continuity, unless otherwise noted.
Chapters will be reorganized to follow chronological order as they come out.
Cover Art made with images from: http://mysticalpha.deviantart.com/
Chapters (35)