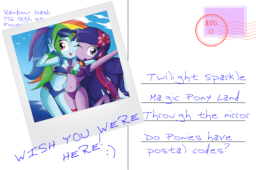 Source
The stresses of being Equestria's newest Princess are starting to catch up with poor Twilight Sparkle. Recently she's barely even gotten to spend time with her friends! It's just meeting after meeting with snobby nobles and arrogant diplomats.
She needs a vacation. A place to get away where nopony can bug her for a few days. And she knows just where to go, to visit her friends in the mirror world!
But how will she react when she arrives to meet... Twilight Sparkle? And she's kissing Rainbow Dash?! WHAT IN THE HAY IS GOING ON?!
My entry for the Twidash Group's Third Twidash Contest.
Picture for coverart by The-Butch-X
Chapters (4)