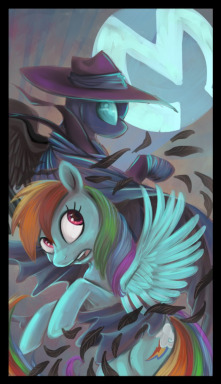 Source
Set shortly after The Mysterious Mare Do Well.
Perhaps Rainbow Dash had read a few too many comic books? Seen one too many hero movies. Either way, this was not going to end well for anypony.
Rainbow Dash has decided since each of her friends (aside from Rarity) have gotten a chance, she wants to give being The Mysterious Mare Do Well a try. The only problem? Ponyville is too peaceful. It seems all the craziness that had happened the past week has passed, and there really isn't any need for a costumed crime fighter now.
Twilight, seeing Rainbow Dash's annoyance at not being able to be a hero, takes it upon herself to help her friend experience a super hero adventure. By creating the powerful, the terrifying, the surprisingly sarcastic, Professor Nightshade.
Yeah, this is totally going to end well.
My entry into the TwiDash group's first Fanfiction Contest.
Yes, this is for the TwiDash group, so there will obviously be TwiDash inside.
***Story is currently being edited, please excuse the mess!***
Chapters (9)