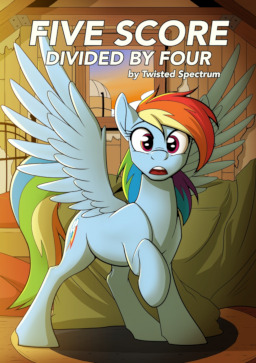 Source
Curious about Five Score? Come check out the story that inspired so many side fics that FimFic had to make a rule banning any more of them!
Even though MLP:FiM ended a few years ago, my friends and I still loved the show. Stories, merch, fan art, I loved it all. Things started to get a weird though when I found myself with a cutie mark appearing on my leg. Humans aren't supposed to get cutie marks, so where the heck did this come from? And what's going on with my hair?
---
There is also a Mature rated version of this story. People who want to read the Mature version (which has more colorful language, nudity, and occasional light clop) may do so by clicking here. It's not a clopfic by any means, but it does have some explicit sex scenes.
---
Look what random people on the internet are saying about Five Score, Divided by Four
SWEET FILLY LUNA I AM FLIPPING MY SHIT RIGHT NOW
-Shadow Reaper
I'll probably never be able to clop again if this keeps up.
-Dash Attack
One of the best things to come out of this fandom.
-IrraticDrop
This made me change how I think about fictional worlds, imagination, and even reality
-relgukxilef
The only story on FimFiction to have me literally shaking with excitement.
-jeramiahsental
---
Five Score master editor:
Scrub
Five Score proofreaders:
Comrade Sparkle
Rustle my Jimmies
Chapters (38)