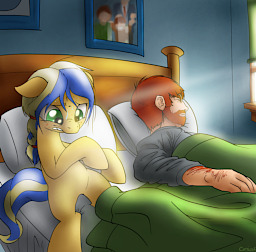 Comedy
Human
Romance
Slice of Life
---
Hello, I'm Mary. I'm a mother of two, married to the most wonderful man I could hope for and live what I consider to be, the life I've always wanted. So... why oh why, in the wide, wide world of whys, did this happen to me?
This is my story, for better or for worse, about how things in my life became beyond unbearable.
---
Author's Note
This Fic is dedicated to moms everywhere. Just saying, moms rock.
This story also runs parallel (as in it happens at the same time as) to the other stories in "The Madverse" (incrediblyvainname TM). Those stories are, A Twilight Landing, So Many Wonders, Abhorsen, as well as The Mane Two : Contrail, started by Alex Nuage, and currently being written by Ludicrous Lycan. Please enjoy the stories, you need not read them all, but doing so eventually gets you the whole picture.

---
Art Work
(Not all art linked due to use in the story.)
Pulled Over by Balthasar999
'Mary and Stan's Morning' by Conicer
Erin from Sunflower and Mary by Conicer
---
Related and Connected Works
Abhorsen : Friendship Is Freemagic
---
Circa Nov. 2013 My Little Marriage appeared on Tvtropes. Great Success!
---
Thanks from the Author
A special thanks to Everypony from the collab group, Alex Nuage, Cold Spike, Firebirdbtops, Stormy Weather and everyone else involved!
---
Cover Art was commissioned from the illustrious Conicer!
Art was adjusted by LordElliott