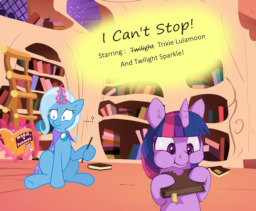 Source
There are few rivalries as anti-climactic as the one that exists between Twilight and Trixie, two mares from very far-flung backgrounds. At least, the rivalry exists in Trixie's mind, whereas with Twilight, she just wishes she could get even just a month of being Trixie-free! Now, Trixie has shown up yet again, leaving Twilight to wonder what she could possibly be intruding for this time.
---
Author's Note
Hello, folks, and welcome. If you're in the mood for some good old fashioned Trixie and Twilight rivalry, then this is for you. This story does ignore that silly event with Trixie begging for forgiveness. Trixie does not beg! She is the Great and Powerful! Right? And she is finally going to get her revenge on Twilight Sparkle... Probably.
So, this one is just for silly fun. And honestly I've been poking at this story for a long time. Easily since I started writing in 2012. It's gone from being a story idea on a long list of ideas, to being half written, to being a full story. I hope you all enjoy!
---
Artist(s) of the cover art is a frankenstein mix of work from two artists, [redacted]'s Twilight and drewdini's Trixie (and a screencap from the show). Sorry it's so slapdash and amateur!

Chapters (4)