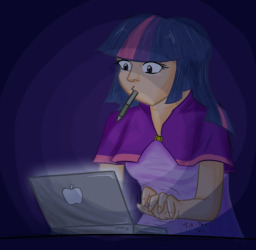 Source
Twilight Sparkle has been on Earth, and human, for nearly two weeks. It wasn't planned, but the human girl that she stays with is at least very helpful. As her stay lengthens and the difficulty of returning to Equestria seems more and more strenuous, she tries to take it easy and research the humans and their customs. Even though she is no longer a unicorn at the moment, her pastimes and favorite hobbies remain the same. Studying always eases her mind, so a look into human mating rituals should be very interesting and therapeutic, right?
This 'one-shot' story is an offshoot of Merlos The Mad's story, 'A Twilight Landing'. It takes place eleven days into the story, just after chapter thirteen. If you read this story by itself, the jokes will still make sense. This may also be considered canon.
Cover art graciously provided by go4moo!
Additional chapters a definite possibility.
Chapters (1)