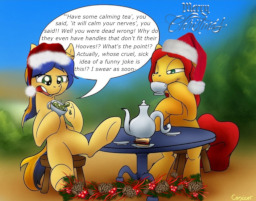 A crossover story between My Little Marriage and Project: Sunflower. The story takes place after Chapter 30 of Project: Sunflower and before Chapter 22 of My Little Marriage. Contains minimal spoilers for both stories. Co-written by Merlos the Mad and Hoopy McGee.
~~
Two completely different worlds, two very different women:
Mary Morris is an ordinary wife and mother who woke up as a pony one strange day. Since then, she's been struggling to retain her sanity and deal with her new body, all while hoping to find a way to change back.
Erin Olsen is part of a project to investigate the newly discovered world of Equestria. Using advanced nanotechnology, she was turned into a pony in order to better fit in with the local population.
After a test of new world-traveling technology goes wrong, these two meet up and have sandwiches.
~~
This story is a collaboration between Hoopy McGee and Merlos the Mad.
Pre-reading, editing and general suggestions given by Ludicrous Lycan and Firebirdbtops
Original art by Conicer and modified (text and Santa hats added) by Merlos the Mad.
Chapters (1)