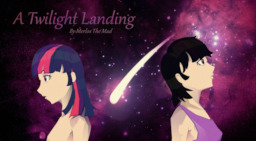 Source
It's late. So late, in fact, that it's early. The clock in the room reads well past one in the morning. There's also a storm hammering against this girl's home, trying to lull her to sleep. Stubbornly, she remains awake, drawing, surfing the internet, and basically procrastinating another night away.
So, what is it that makes this night any different from another one that she has lived through? What strange occurrence occurs that makes it stand out? That changes her life forever? That changes the course of- Oh you get the idea.
Have a look through "A Twilight Landing" and find out. Follow Twilight through her journey on Earth, her quest to return home, and the people that help her along the way.
---
---
This story runs parallel (as in it happens at the same time as) to the other stories in "The Madverse". Those stories are, So Many Wonders, My Little Marriage, Abhorsen, as well as The Mane Two : Contrail, started by Alex Nuage, and currently being written by Ludicrous Lycan.

Chapters (32)