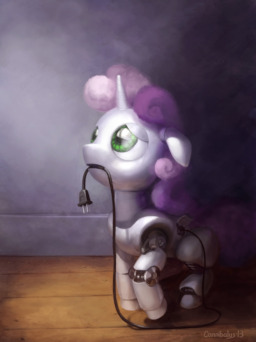 Stephanie enjoys a lot of things: reading, engineering, programming, advanced physics, and, of course, My Little Pony: Friendship is Magic. The result of these hobbies and habits is a little robotic filly, named Sweetie Belle. It was a pet project, something she started for herself on a whim one night, and worked on since before she started college. She has a job now, and is a young adult with everything in order the way it should be.
That is, until something unexpected happens.
---
Author's Warning
I have been informed this story contains deadly levels of cute. Continue at your own risk. Those with weak hearts may wish to avoid.
---
Greetings one, greetings all, greetings none, and some; greetings, everyone.
So, new story, folks. It's not a Madverse fic, just another little story I cooked up. It's sort of like an old movie called 'Short Circuit', but isn't a crossover or a remake. The only real similarities are of course there's a robot and a girl named Stephanie. Of course it is centered around Sweetie Bot. Please do enjoy!
---
Chapters (13)